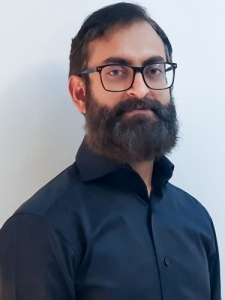 Sensors & Detectors at ASML
After an action-packed day, filled with exciting talks delivered by experts, we shall taper off with this relaxing and technically-light presentation. Let's be honest and simply address the elephant in the room: No machine can perform better than its sensors. And the machines manufactured at ASML contain more than a handful! You will hear what are the sensor related challenges that ASML faces every day. Maybe you have the right ideas that can be explored under a collaboration!
Padmakumar R. Rao obtained his PhD from Delft University of Technology (the Netherlands) in 2009, where he studied the effects of radiation on CMOS image sensors.
He then worked at IMEC (Belgium) on hybrid backside illuminated image sensors for outer-space applications, and later at ON Semiconductor (Belgium).
He is currently a senior researcher at ASML (Netherlands), investigating novel detectors for various metrology applications.